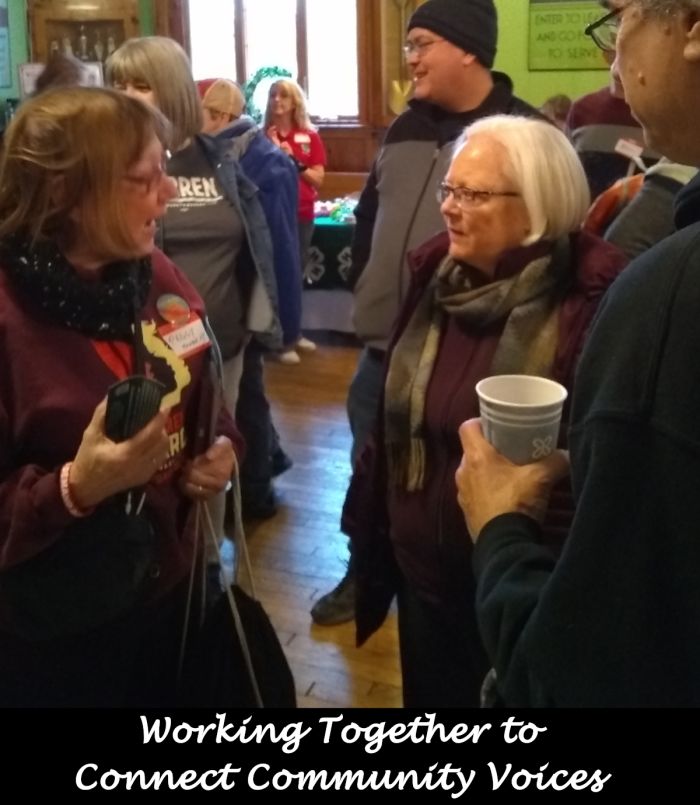 What Matters Most to YOU?
Contact Marian and let your voice be heard!
We all have been through much upheaval and uncertainty during this pandemic, and it's time to heal and move on. Marian believes our possibilities are vast and we all deserve a bright future. We can attract new businesses, provide good jobs, and create a healthier environment.
Tell Marian ☛ I want to create jobs and build a better community!
Most of us have two main priorities right now -- staying healthy and providing for our families. We all deserve the care we need to keep us healthy. Marian knows Seniors need affordable insurance and low-cost medicines. Veterans deserve the best care and every county should have a personal connection to Vet Services. Opioid addiction has wreaked lives and the state should offer more treatment options with a dedicated program for drug courts that puts rehabilitation over incarceration. Marian knows we all deserve access to reproductive healthcare including cancer screenings, contraception, and abortion care - no matter our race, gender identification, or where we're from.
Tell Marian ☛ Healthcare matters to me!
Ambulance services, police, fire, and rescue emergency services are vital. Life-saving care, paramedical care and transport are especially needed where Seniors reside. Marian knows fire companies are short on volunteers and she will find out what's being done by the state and get better help for companies in the district. In rural areas such as the 139th district, some townships assess taxes to fund some of these emergency services. Is this enough? Marian will work with local leaders and champion changes in the state legislature to get the much needed and critical county- and region-wide coordinated responses.
Tell Marian ☛ Emergency services matter to me!
People need safe roads, bridges, reliable internet access, and public utilizes to improve everyone's quality of life, promote tourism, get our goods to market, ourselves to work and leisure, and our children safely to school. Marian will find out were our tax dollars are in the state budget and get what our district needs to make our lives better.
Tell Marian ☛ Infrastructure matters to me!
We all enjoy being able to breathe clean air, swim in clean waters, and enjoy Pennsylvania's great natural beauty. People in Pike and Wayne Counties depend on intact landscapes and clean air and water to promote the natural beauty of the Pocono Mountains and sustainable farming. Marian has had a life-long passion for protecting nature and practicing sustainable and responsible forestry. We can unite to protect our air and water and preserve the natural, scenic, historic and esthetic values of our landscapes while creating good jobs with livable wages.
Tell Marian ☛ The environment matters to me!
No matter our zip code, all our children deserve a great public education. But for too long, some politicians have claimed there isn't enough money for our schools and have been derelict in finding and raising the revenue to fund our schools. Marian believes we can develop a fair funding formula in our state budget for our schools and raise the revenue without burdening working families and seniors by implementing a shale tax and closing tax loopholes for wealthy corporations. Marian also will work on charter school laws so all schools are held to the same standards for the tax dollars they receive. Learning is the pathway to our dreams, and state funding for college or trade school has been decreasing when our workforce needs it most. Education was a key to Marian's success and she will make it a priority for all of us.
Tell Marian ☛ Education matters to me!
Government must be accountable to the voters. Voters choose our government representatives, not big money or politicians. We say America was founded on the principle that all people are created equal. Marian's campaign is funded by individual donors, not Super PACs. Marian has fought for an independent commission to draw district lines, and she will for our future. Marian votes by mail because she knows it's time to modernize the ways we vote, and she has the investigative and deliberative skills to make sound decisions, fairly for all of us,
Tell Marian ☛ Good governance matters to me!
Marian has planned and worked within budgets for many organizations and will find the state funds to fix our infrastructure. Where stronger regulations are needed to protect our democracy, health and livelihoods, she will work with all parties to co-sponsor or write legislation then caucus to pass bills. Marian will work with our Federally elected officials and local elected and community leaders when state legislative leadership is needed to make it better for people in the district.
☛ Donate Here
☛ Volunteer Here